To put it plainly, at New Day our first goal is fun. Over the past 30 years we've developed some truly great activities and traditions that make camp the uniquely amazing experience it is.
Musicals
We love to sing, we love to dance, and we're all actors when it gets down to it - we LOVE to put these all together and get everyone involved with the New Day Musicals.
Music
Music is central to New Day - whether its a live band, a lunch-time DJ, or the perfect dance playlist, music is alive at camp at all times.
Pool Time
It's the middle of the summer, the sun is hot and the day is long - we LOVE to relax in the pool and have been known to get some 20 vs 20 pool volleyball games going on. Sometimes we even play pool basketball using some of our counselors as nets!
Skits
Tradition is great... and it can be quite silly. At camp we have a few classic skits that remind us that here, its not only OK to be silly - its encouraged!
Flag Raising
A daily tradition - we like to get everyone energized in the morning with some singing and dancing around the flagpole until we raise the red-white-and-blue with a never-ending rendition of God Bless America. Some of our hits include 'Take Me Out to the Ball Game', 'Peanut Butter and Jelly', ' In a Cabin in the Wood', and 'From the East to the West'.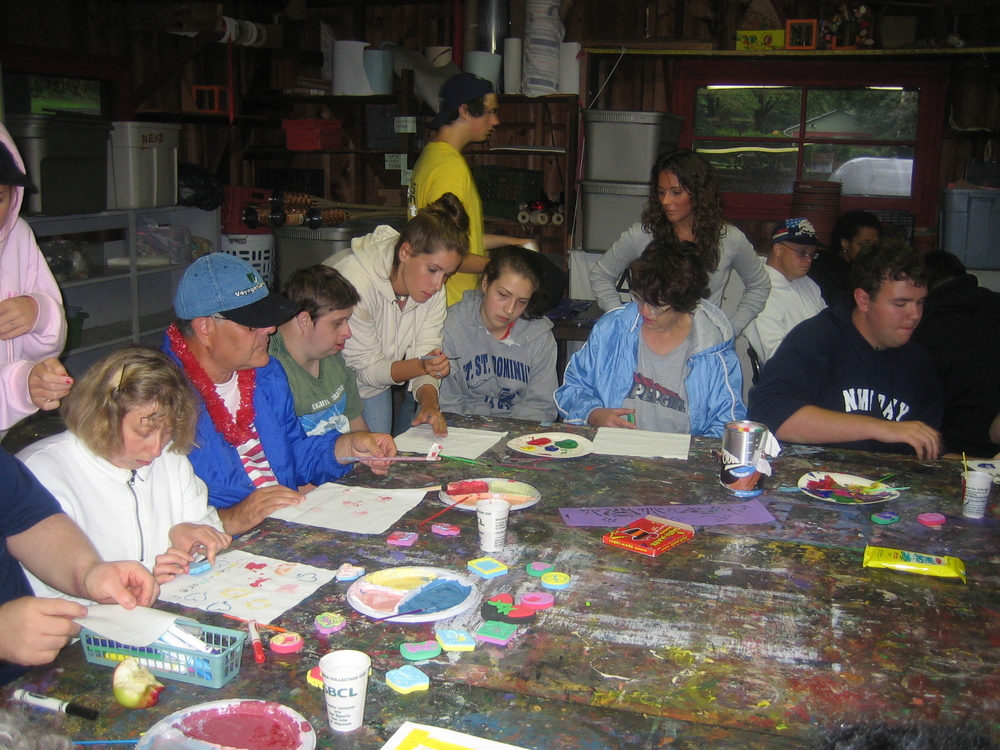 Arts & Crafts
At New Day, we like to play with our hands - and to be honest, sometimes it gets a bit messy! At any New Day event you can expect to find fun and unique arts & craft activities that everyone can enjoy (and be proud of)!
Dinner Theater
One of our newest traditions - at every week we like to take one night to mix food and fun and treat our clients to an interactive dinner mystery event! Our kitchen staff pitches in for a multi-course meal and our counselors get into character for a night of bad acting and twists and turns.
Campfires
What camp would be complete without s'mores and singalongs around the campfire? Not this one! We like to gather around the fire whenever we can to share stories, sing songs, and debate the perfect ratio of marshmallow to chocolate in a s'more. The world may never know!
Dance Parties!
Nightly activity getting a little dull? Time for a dance party! The cooks need 20 more minutes before lunch is ready? Time for a dance party! Its 6 am and everyone is already up? Dance party!!! At camp, we LOVE to dance - and when you're bored, its the perfect remedy!
Casino Night
Games of chance, games of skill... no matter what your game is, Casino Night has got it all! From Blackjack to Roulette, to Go Fish and Apples to Apples, there's countless chances to win big - in fact at camp, everyone wins on Casino Night!
Movie Night
Relax and unwind under the stars for a night of movies - whether its a new release, an old favorite, or the most amazing clip show you've ever seen - nothing beats relaxing with friends and some popcorn in front of the big screen!